Another year is about to end. But before the calendar flips to 2018, here is a look back at the year that was in television and radio. This article looks back at some of the Hot or Not moments that define the Philippine media this year.
If you missed out on Part I of this series, click on the highlighted link for more information.
Here is Part II of the four-part series. These stories are arranged in no particular order.
HOT: Ben and Erwin Tulfo
The two Tulfo brothers began the year as hosts of their respective programs (Ben for 'Bitag Live', Erwin for 'Punto Asintado') on Radyo5 92.3 News FM. But after a highly-publicized feud with journalist Ed Lingao last June, Ben and Erwin elected to quit their jobs with Radyo5 and move over to PTV-4 (where they host 'Kilos Pronto' with Alex Santos) and Radyo Pilipinas full-time.
While Ben moved 'Bitag Live' to join its sister programs over to PTV-4, Erwin returned to newscasting with 'Radyo Pilipinas Nationwide' and 'PTV News' where he is joined by Weng dela Peña and Diane Querrer respectively. Erwin also brought his 'Erwin Tulfo Live' over to Radyo Pilipinas and started a talk show with President Rodrigo Duterte called 'Sa Totoo Lang'.
NOT: Raffy Tulfo
Meanwhile, the lone remaining Tulfo on TV5 continued to butcher the already damaged reputation of its news division by changing the format anew of 'Aksyon sa Tanghali'. As a result, the erstwhile newscast became a full-on television counterpart to Raffy's radio program 'Wanted sa Radyo' by emphasizing more on citizen complaints than actual news reports.
Notwithstanding the recent addition of Marga Vargas as co-anchor, it was clear that having Raffy on 'Aksyon sa Tanghali' is doing more harm than good to News5's morale. Perhaps the departure of his brothers plus News5's decline in quality may have taken its toll on Raffy, and giving him the walking papers may be inevitable.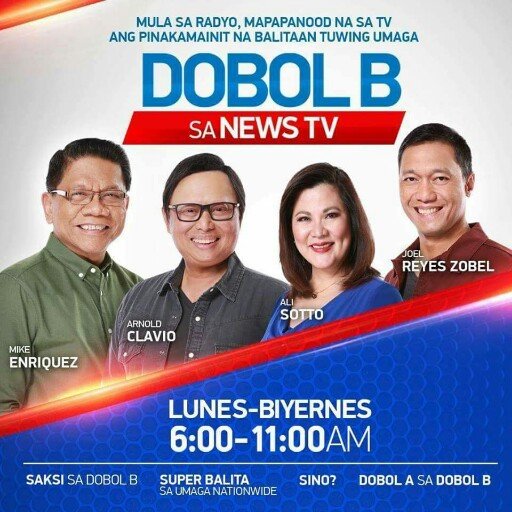 HOT: DZMM TeleRadyo and Dobol B sa News TV
In April, a new-look DZMM TeleRadyo was unveiled to a nationwide audience, featuring an improved visual presentation and a new set for 'Sakto', 'Good Vibes', 'On the Spot' and 'Todo-Todo Walang Preno'. They also added a selection of ABS-CBN News programs and two newscasts to the lineup in 'Headline Pilipinas' and an 'early edition' of 'Bandila'.
Not to be outdone, rival Super Radyo DZBB 594 returned to television via 'Dobol B sa News TV' after a four-year hiatus. The station also started to cross over to social media by airing select programs live on Facebook, much like DZMM does on occasion.
NOT: News5 in General
The self-destruction of News5 continued throughout the year. Not only did the network lose Ben and Erwin Tulfo among other talents, they also cancelled 'Aksyon sa Umaga' and shortened 'Aksyon Tonite' in favor of sports programming from ESPN5.
It also didn't help that its leader Luchi Cruz-Valdes disappeared from radio and television altogether due to health concerns. Overall, the future does not look bright for News5 and the inevitability of dissolution draws even closer as each day passes.
HOT: 97.9 Home Radio
Call it a rebirth as the 'old' 97.9 Home Radio returned to the airwaves last July. Gone is the Top 40 style of previous years, and to the delight of its loyal listeners, Home Radio resurrected its familiar 'easy listening' format.
The reformat of Home Radio back to its roots should give 96.3 Easy Rock a run for its money. After all, with Easy Rock offering a bland Love Radio-like approach, a more diverse playlist is more than enough for listeners to switch to Home Radio instead.
NOT: 90.7 Love Radio
They may continue to boast that they were the No. 1 radio station in Metro Manila for nearly (self-proclaimed) two decades now, but the grip is slipping for 90.7 Love Radio. The loss of Papa Jack (now 106.7 Energy FM's Papa Jackson) became too large of a hole to fill, and despite having the talented duo of Chris Tsuper and Nicole Hyala, this year overall is not a good one for Love Radio.
Getting surpassed by MOR 101.9 in the ratings is insult to injury to Love Radio's psyche. And if that is not enough, Lloyd Cafe Cadena is no Papa Jackson, which is hard to accept for any listener of the said station.
HOT: FM1 and FM2
The two FM stations under the PCOO umbrella officially signed on this year: 104.3 FM2 in February and 87.5 FM1 in November. Within months, FM2 became the top-rated FM radio station among the upscale listening public thanks in large part to their diverse format featuring classic songs from the 70s up to the 90s.
As for FM1, the station is currently in test broadcast and is expected to launch early next year. Unlike FM2, FM1 will focus on the younger demographic with a format consisting of music from the 2000s onwards, which should give established stations like Magic 89.9 and Monster RX 93.1 a run for their money.
NOT: Retro 105.9
The original 'retro' FM radio station in Metro Manila faced new competition in the form of FM2 this year. Initially, Retro 105.9 was the top FM radio station among Metro Manila's upscale listeners, but a surge from FM2 ended their reign.
Making matters worse is Retro 105.9's latest rebrand that took place in November, dismissing almost all of its on-air staff in favor of a mostly automated approach. With FM2 imposing its will on the upscale market, it seems like the days of Retro 105.9 as the source of anything 'retro' music is being numbered by the day.
Part III of this four-part series is coming up this Thursday. Stay tuned.