Another year is about to end. But before the calendar flips to 2018, here is a look back at the year that was in television and radio. This article looks back at some of the Hot or Not moments that define the Philippine media this year.
If you missed out on Part I, Part II and Part III of this series, click on the highlighted link for more information.
Here is Part IV of the four-part series. These stories are arranged in no particular order.
HOT: PBA at Philippine Arena
The final three games of the 2017 PBA Governors' Cup Finals were held at the Philippine Arena. Not surprisingly, the venue was packed to the rafters, thanks in large part to the presence of crowd favorite and defending champion Barangay Ginebra San Miguel.
Ginebra went on to defeat the Meralco Bolts in seven games, with Game 7 becoming the highest-attended PBA game ever with over 54,000 spectators. The victory also gave San Miguel Corporation a perfect 3-for-3 in terms of championships in the 2016-17 PBA season, with the San Miguel Beermen having conquered both the Philippine and Commissioner's Cup as well.
NOT: ESPN5
TV5 started 2017 by defiantly telling viewers to 'choose courage' in their station ID. By the end of the year, however, courage turned to cowardice as Chot Reyes gradually turned TV5 into a sports-oriented network and stripped whatever's left of the station's content.
The final straw came in October when TV5 signed a deal with ESPN to rename its sports division into ESPN5. Since then, the collaboration purchased the broadcast rights to the National Football League and U.S. NCAA college basketball to go along with local sports such as the PBA and the Philippine SuperLiga.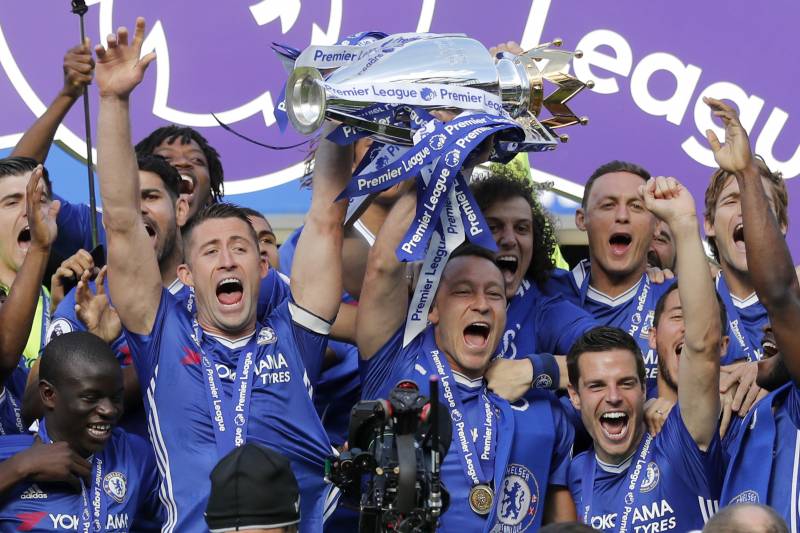 HOT: International Football on S+A
Already with the rights to the NBA, UAAP, NCAA, FIFA football, ABL and ONE Championship among other sports, ABS-CBN Sports acquired another big fish late in the year thanks to a collaboration with beIN Sport and Triple CH. The deal brought in the Premier League, La Liga and the UEFA Champions League to S+A.
The acquisition is, in many ways, beneficial to Filipino football fans who are craving to watch some of the world's top footballers like Lionel Messi and Cristiano Ronaldo for free. However, with football having one of the most expensive broadcast rights in the world, it remains to be seen if ABS-CBN Sports' risk will become a reward.
NOT: PFL on PTV-4
Suffice to say, the inaugural season of the Philippines Football League did not work out on the television side. The league faced plenty of problems with coveror PTV-4, namely weather postponements and the unexpected live broadcasts of President Rodrigo Duterte's speeches.
By August the PFL suddenly disappeared from television as it became fed up with PTV-4's presidential priorities. With the first season already complete, perhaps the time is now to find a new broadcast partner for next season.
HOT: NBA on ABS-CBN
2017 was a surprisingly productive year for ABS-CBN's NBA coverage. Beginning with the 2017 playoffs, S+A aired NBA games every day up until the finals, with a few dates reserved for doubleheaders.
Once the finals began, ABS-CBN Sports employed a simulcast on both Channel 2 and S+A. The former featured commentary from Boom Gonzales and TJ Manotoc live from the U.S. while the latter used the feed featuring ESPN announcers Mike Breen, Mark Jackson, Jeff Van Gundy and Doris Burke.
ABS-CBN also made NBA games available on S+A's HD platform, which was previously separate and distinct from its SD counterpart. However, ABS-CBN's surprise increase in NBA game coverage was just a reprieve for SkyCable subscribers, no thanks in part to a brewing controversy.
NOT: Solar Entertainment/SkyCable Controversy
It was deja vu all over again as Solar Entertainment pulled out its cable channels from SkyCable amid furor over NBA broadcast rights. The network claimed that ABS-CBN owed them millions of pesos for the rights to carry Basketball TV and NBA Premium TV.
The conflict remains unresolved as of now due to conflicting statements between the two parties. This left angry NBA fans with no choice but to switch over to other cable and satellite outlets or subscribe to NBA League Pass.
HOT: Sports News Programs on TV
2017 saw two new sports news programs debut on Philippine television. In January, the ABS-CBN News Channel premiered 'Gametime' with Migs Bustos at the helm, while in December, ESPN5 brought in 'SportsCenter Philippines' with Aaron Atayde, Lia Cruz, Magoo Marjon and Amanda Fernandez as its anchors.
Meanwhile, CNN Philippines' 'Sports Desk' lost one of its pillars as Mico Halili announced his departure from the network amid rumors of a reorganization. Finally, PTV-4 announced that PTV Sports would return as a standalone program after nearly a year's absence, with Dennis Principe once again at the helm alongside Meg Siozon and Angel Atienza.
NOT: WWE on FOX
Carriage issues also got in the way of WWE programming on FOX Philippines' family of networks as it announced that they would cease ties with the wresting promotion after a six-year run. This was due to the two parties' inability to agree on a renewal.
Shortly thereafter, TV5 announced that they would air WWE programs on their networks, but so far, only the condensed edition of SmackDown is currently on their lineup. As for Raw, the commercial-free 90-minute edition was made available on WWE's YouTube page (for Philippine viewers only) while other programs can be seen via the WWE Network service.
Summary and Outlook
Overall, 2017 was both a challenge and an experience for media in the Philippines. Longstanding issues and pressing concerns were all over the place as each network tried its best to resolve each and every one of them.
Looking ahead to 2018, there are still plenty more challenges to conquer and some new tasks to take. The evolution in media does not stop here and From the Tube will continue to bring in the latest news in the world of broadcasting come next year.
In the meantime, have a Merry Christmas and a Happy New Year.